CrowdFlower, the leading data enrichment platform, helps data scientists collect, clean, and label data. Their on-demand workforce tackles everything from data collection to sentiment analysis; search relevance tuning to content moderation.
While they use Mode to share data throughout their business, a simple integration with Desk.com enables their community team to fly through support tickets faster than ever.
Data Everywhere
After starting up in 2009 and growing quickly, CrowdFlower reached a point where its engineers were managing data stored in four separate SQL clusters, experimenting with Mongo DB, and looking to integrate customer data from Salesforce, Desk, and Zendesk.
Realizing the need to uncover new opportunities for its product, sales, and community teams using data, CrowdFlower chartered a new data team to consolidate data sources and facilitate company-wide access.
Company-Wide Access to Reliable Data
The newly formed data team started by consolidating its SQL and Mongo databases in Amazon Redshift. Next they added Mixpanel event data and customer information from Salesforce. With a new, single source of truth, the team began the hunt for a way to share analysis back out with teams across the company.
As the data team built up an arsenal of new queries—both for routine metrics and ad hoc analyses— they started using Mode to reduce duplicated work. As they shared reports of their findings, the data team quickly spurred company-wide adoption of one, centralized analysis tool.
A huge sign of success, says Lead Data Engineer Matt Gordon, was when he hears coworkers talking about the tools and processes his team has implemented. "Recently I overheard someone say, 'I can't believe how much easier it is to get the data I need.' You know they mean it when they're talking amongst themselves."
Mode + Desk.com = A More Nimble Community Team
When repeated patterns of questions emerge, the data team looks for opportunities to partner with other internal teams to turn popular queries into data tools.
Enter CrowdFlower's three-person community team. As the community of contributors from over 190 countries rapidly expands, the community team looks to data—and Matt's team—to enhance their ability to provide great support. Recently, over the course of a few hours, the data team built a Mode report that the community team could use to query project and issue information by contributor—without touching code.
"Sure, we could have built an internal service for the Community Team," says Matt, "but with engineers busy building our core product, we used Mode to provide the same information without distracting people working on customer-facing projects."
Next the teams integrated auto-generated Mode URLs with query strings into their help desk software, Desk.com. As requests come in, a query link is programmatically generated to provide the community support representative more information about the contributor and project. Instead of manually searching for information in a few different tools, the community team uses these queries to quickly pull up everything they need to fly through requests.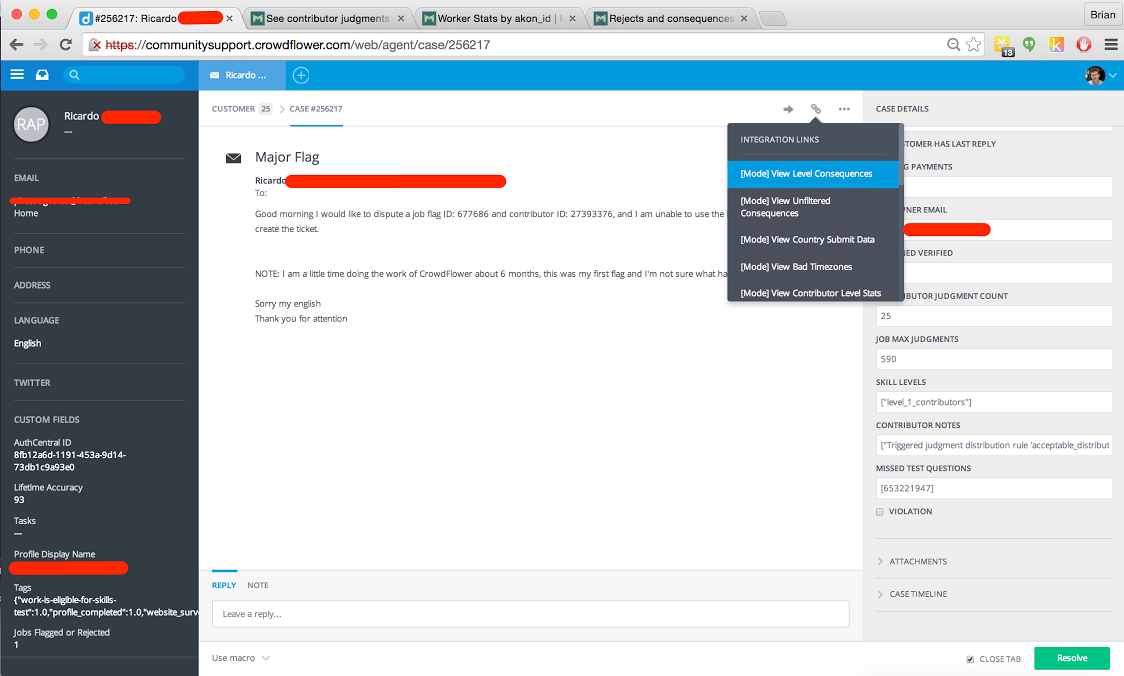 Since integrating Mode into Desk.com, the community team has become 2-10 times more efficient, depending on the situation.
Says Community Team Lead Brian Reavey, "Integrating Mode into Desk.com has made our support team far more nimble. We don't have to teach everyone SQL. We don't have to wait for an admin interface to be built. We can just query our database how we want, when we want."