Good Eggs is an online market that works directly with local farmers and food makers to deliver absurdly fresh groceries to the San Francisco Bay Area.
Good Eggs makes it look easy, yet making a profitable grocery delivery business is anything but. Buy too much and you lose money. Buy too little and customers will look elsewhere. Having a physical, perishable product is difficult enough. Throw in the challenges of ecommerce and same-day delivery and you've got a tough nut to crack.
Yet, in less than a year, Good Eggs went from losing money on each order to turning a profit, and it has steadily widened profit margins ever since. "We've now improved unit economics by about $20 per order," explains Scott Ziolko, head of data at Good Eggs. "About half of that $20 improvement can be directly attributed to the transparency and accountability that we've gained by using Mode."
Business Intelligence on Demand
Good Eggs uses Mode to empower everyone in the company—from the warehouse to the C-suite—to leverage data to improve operational efficiency, increase order accuracy, and better connect with customers.
Before adopting Mode, Good Eggs had tried other analytics solutions but found the solutions' complex, costly licensing models and high maintenance overhead limiting. With users having to request reports from the data team, they ran fewer reports and waited longer for data. Mode was different.
"If people don't have immediate information, it's hard to make good choices," says Ziolko. "Mode offered us the flexibility to give everyone rapid access to the data so that we could be more transparent about how we're doing as a company."
With Mode, anyone in the company can now quickly analyze and share data. The data team still owns core reporting and custom HTML visualizations, but now users from every department can log into Mode and self-serve data on demand. New hires are up and running with Mode within their first week.
"People adopted the platform incredibly quickly," says Ziolko. "They're amazed at how much information they have access to, so they just dive in. Mode has become central to a lot of our processes as an organization."
Improving Operational Efficiency
Mode integrates with Good Eggs' custom software to track and analyze delivery and warehouse operations down to a fraction of a second. Mode reports provide instant feedback so that Good Eggs can respond quickly as it rolls out new features or new warehouse procedures. The data also enables the company to hold individuals accountable for their performance, help employees improve, and recognize those doing an outstanding job.
"Accountability has had the biggest impact on our bottom line,'" says Ziolko. "We used to say, 'We didn't hit a revenue target, but we don't know why. We'll just try harder.' Now we know specifically what we need to change if we miss a target."
Increasing Order Accuracy
The company's most widely used report is an extensive dashboard that displays product inventory and forecasting information. With it, anyone in the company can see at a glance what's in stock, what's on hand, and what's about to expire. They can look up order accuracy and product performance going back 13 weeks. And they can get accurate predictions up to seven days out. The report is continuously updated every few minutes, giving every buying team fresh data as soon as they need it.
Ziolko built the dashboard using Mode's custom HTML functionality to maximize information density without sacrificing usability. To get the same information with a stock dashboard would otherwise require a "massive table or a series of unusable charts with thousands of items." The custom dashboard's density puts all of that data on into a tidy report, giving users the information—and the confidence—to make the right decisions.
"Bringing Mode into more parts of our business has allowed us to gain best-in-class rates of shrink and spoilage," adds Ziolko. "We certainly weren't there before using Mode. Having greater transparency into our data is what has gotten us there."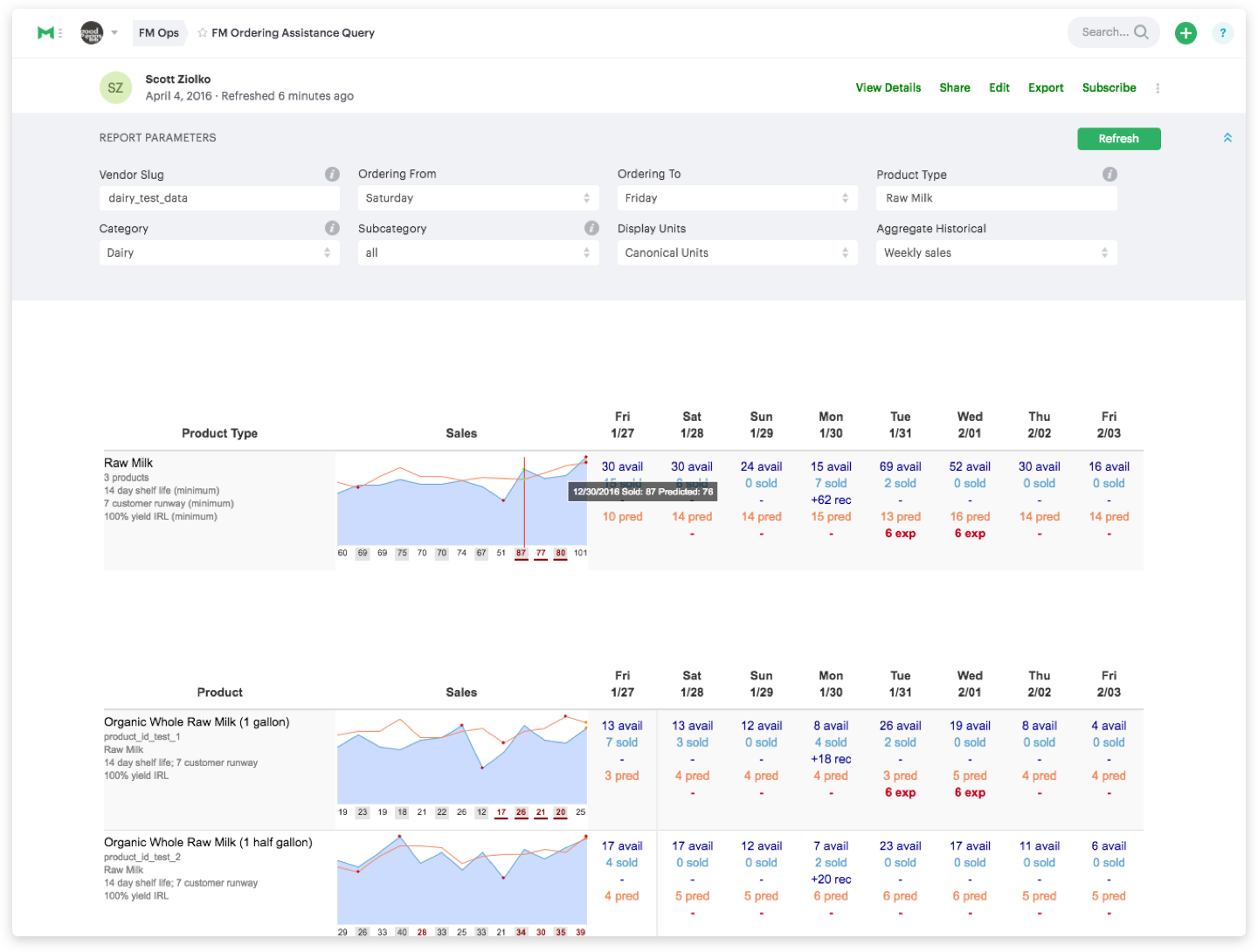 Connecting with Customers
Mode has also changed the way that Good Eggs engages with its customers. Lightweight, SQL-powered reports help the community care team create surprise and delight moments for customers based on their preferences. The marketing team uses Mode for customer segmentation and analysis of marketing campaigns and promotions. And the shopping engineering teams use Mode reports to evaluate customer engagement with the website.
These types of analyses, Ziolko believes, will play an increasingly important role as the company now sets its sights on growing revenue and market share.
"We can finally say, 'We know how to make money doing online grocery.' And that's not something a lot of people can say," adds Ziolko. "Now we're going to try to bring more people into our community. We will be using Mode to monitor and analyze the impact of those efforts."