If a tree falls in the forest and no one is there to hear it, does it make a sound?
We're not entirely sure. What we do know is that if you analyze some data and no one else sees your work, it probably doesn't make much of an impact. And it should.
Today we're adding email sharing options that make it easier for you to distribute analysis to the people who need it most. You can pick between two options for sharing analysis via email: quick shares and scheduled shares.
With quick shares, you can email an analysis the moment you complete it. Scheduled shares allow you to set up a recurring email to alert folks when a regularly-scheduled report finishes running. Either way, you and your coworkers can now access important analyses right from your inbox as either a CSV or a PDF.
If your report is a data pull—a list of email addresses for your marketing team, or a daily account status report for a customer success manager—sharing analysis using the CSV option is likely your best bet. For multi-chart reports or dashboards, the new PDF option captures the entire report layout for quick and easy viewing. If you want to send someone the overview and the underlying data, just select both options before you share.
Here's how it works:
Quick shares
When you've completed an analysis and are ready to email it to someone, click Share. Enter the recipient's email address, a quick message, and select the attachment type. Click Send and the email is off! 📬🎉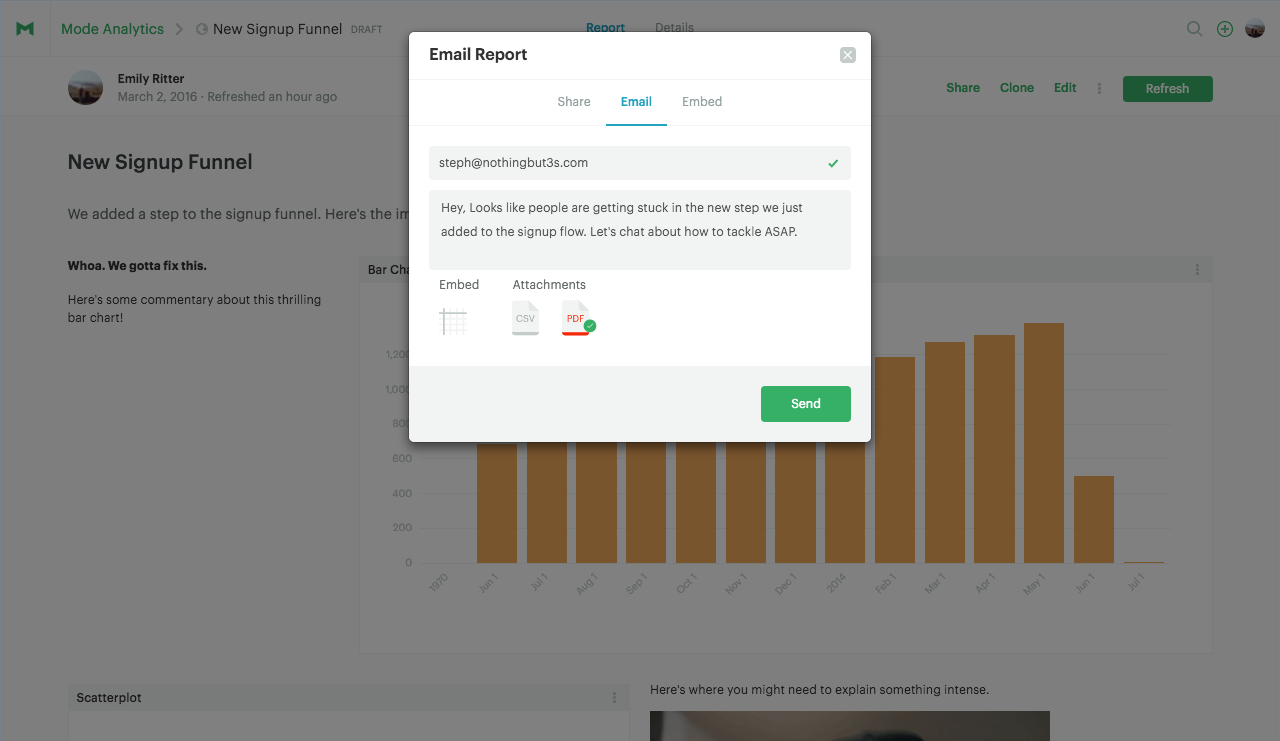 Scheduled shares
To email a report—to yourself or other folks—on a regular basis, go to the report page and click "Subscribe." In one click, you can subscribe to any existing schedule. Want to send the email to the team at a different time? Just create a new schedule and add the right recipients. 🕑📬🎉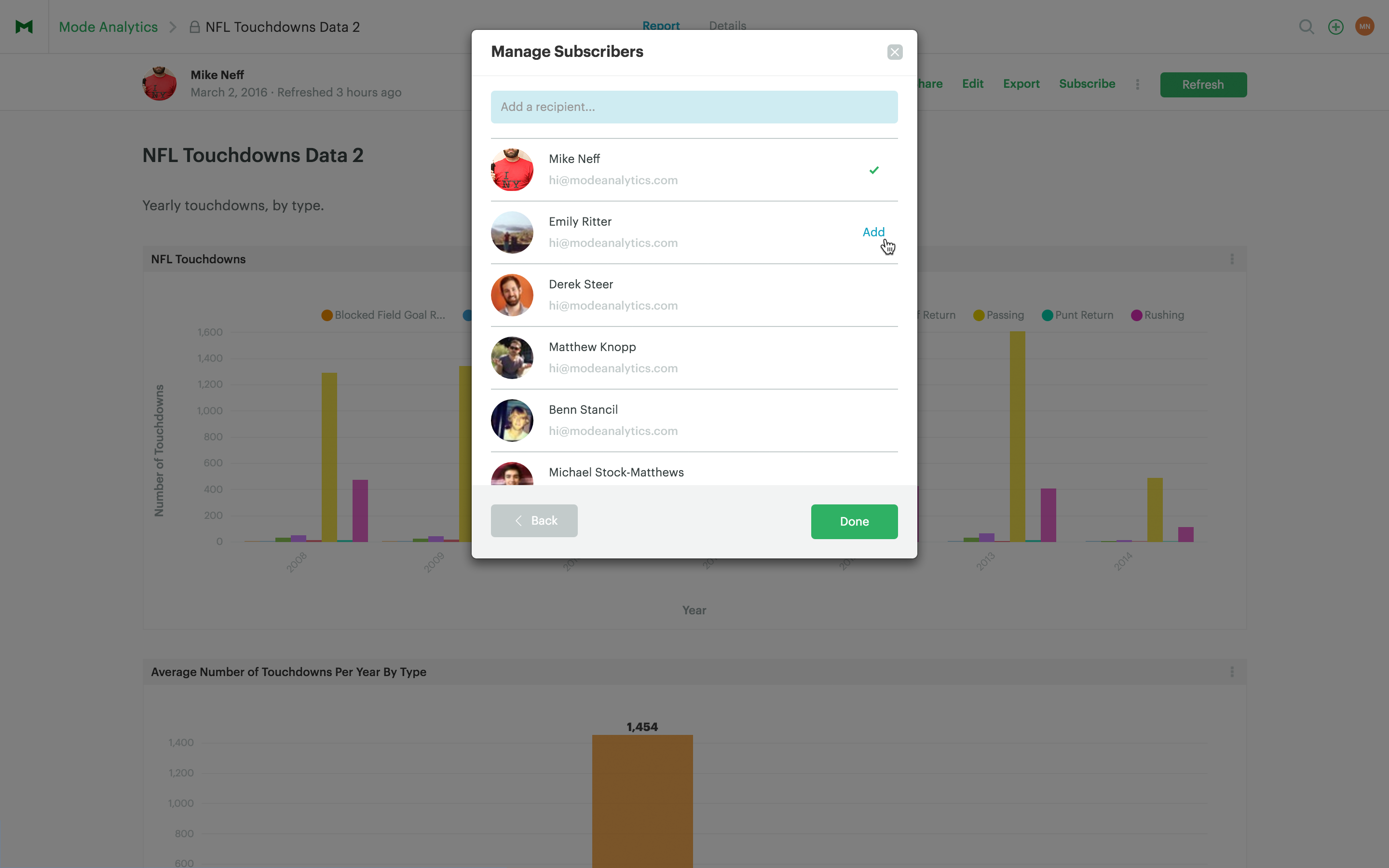 The details page also provides an overview of a report's subscribers and schedules for easy management.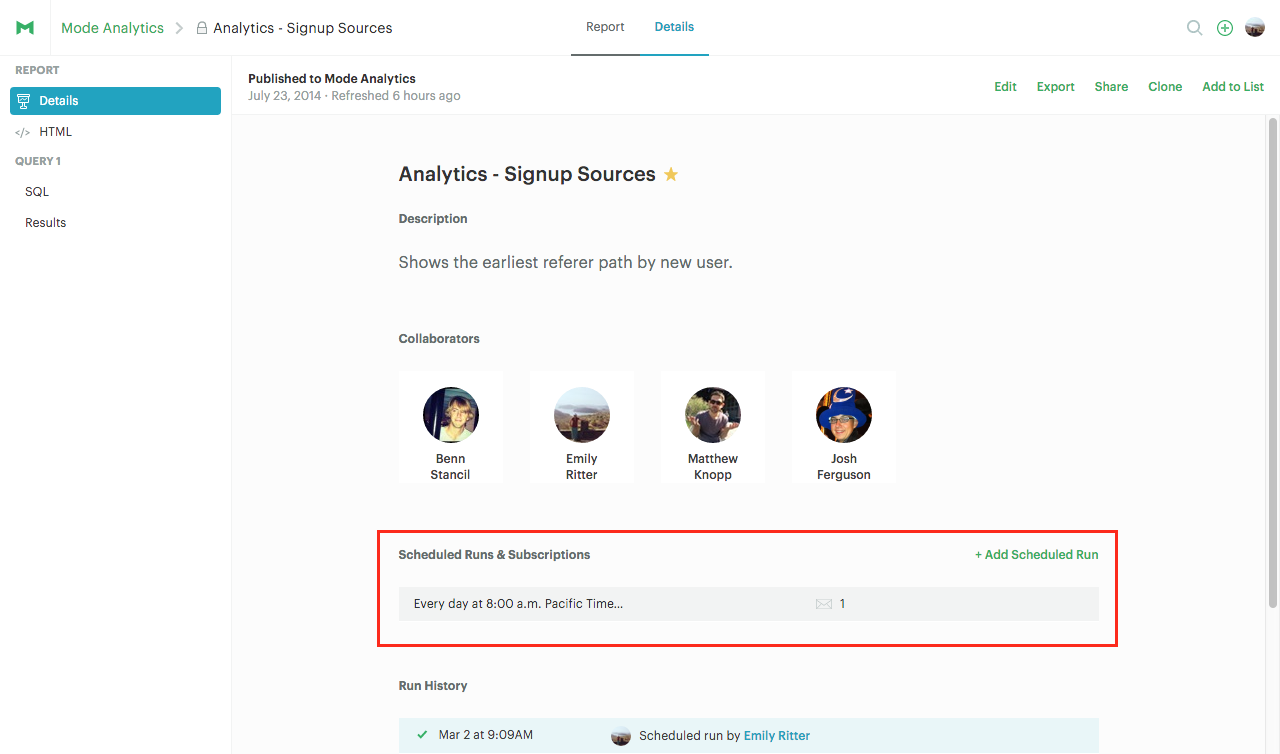 Two quick notes about permissions:
People can receive emails one of two ways. The first is as a member of your Mode organization. Alternatively, if your organization has a whitelisted email domain, you can send Mode reports to folks with addresses at that domain, even if they don't yet have a Mode account.
Organization Administrators can turn off the ability to send attachments. To do so, go to Settings and then select "General" under your organization name.
Keep the feedback coming!
Email sharing was one of the most popular customer requests and we're excited to push it live! We love hearing from you—please keep the feedback coming.