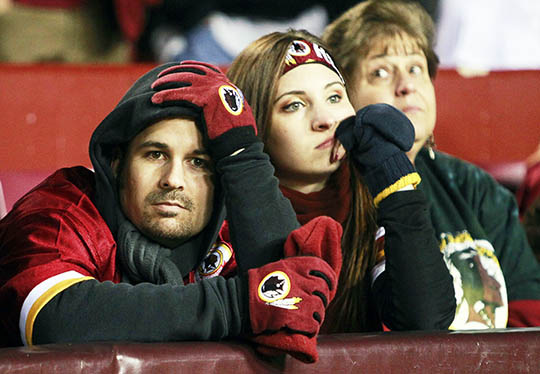 Today marks the last day of the 2014 NFL regular season. Sixteen teams enter this week with a chance to claim one of the 12 spots in the postseason. For the 16 teams and their fans on the outside looking in, telling themselves, "there's always next year," it's never too early to begin rooting for next year.
Each season, the NFL follows the same strict scheduling formula. Fourteen of every team's 16 games are pre-determined, but two games vary depending on the results of the previous season. These games match teams up with those that finish in the same place in other divisions within their conference. For example, Oakland, having already secured fourth place in the AFC West, will play against two other fourth-place AFC teams. Denver, who clinched the division, will play two games against first-place teams.
Though many playoff spots are already cliched, most remaining teams' standings are still up in the air. Only two teams—Denver and the N.Y Jets—already knows which teams they'll play in these two games next season. For other teams, these two games are wide open. Depending on the outcomes of today's games, New Orleans, for example, could play any team in the NFC West and any team in the NFC North.
For many teams, these two games could have a dramatic impact on next year. Under one possible scheduling scenario, New Orleans, which is playing a "meaningless" game against Tampa Bay, is expected to win 7.9 games in 2015. Under another scenario, they're expected to win 8.5. While that difference may seem small, it translates into a 10 percentage point increase in the odds of making the playoffs, according to FiveThirtyEight's 2014 preview. That's comparable to the impact of several late-season games for teams a few games over .500—which are games few fans would miss.
Using FiveThirtyEight's Elo rankings from Week 17, I calculated the number of expected 2015 wins for every scheduling scenario for every team. The interactive below shows all of these scenarios, how they affect expected win totals in 2015, and what needs to happen today for each one to play out.