Today we're releasing three new features to crush the barriers between you and the answers hidden in your data.
Playbook. Open Source Analytics.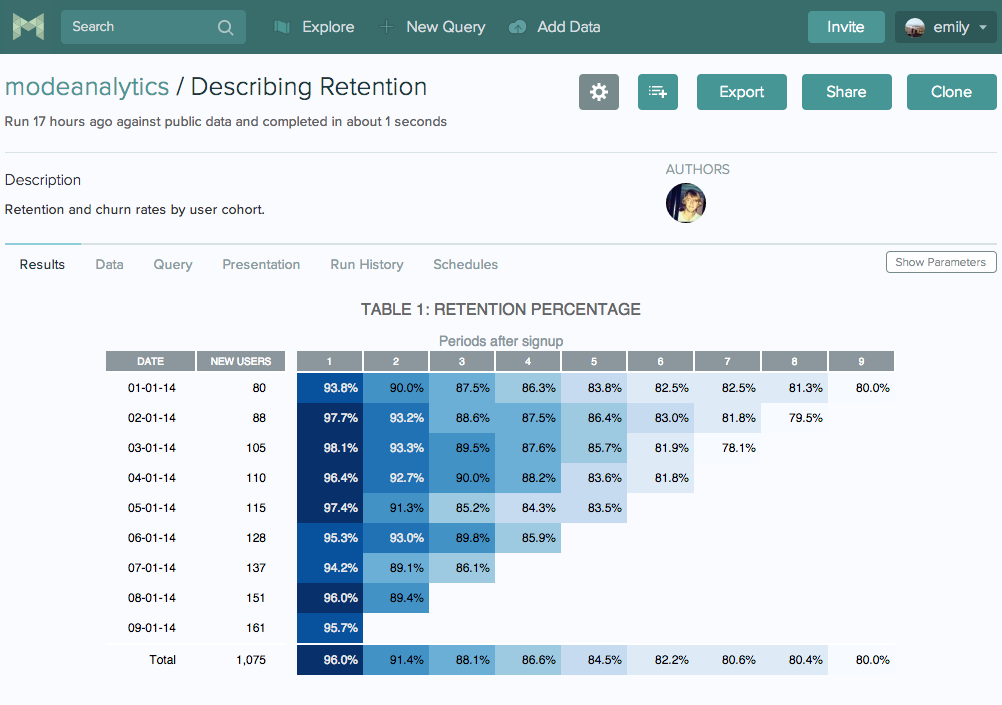 We're thrilled to bring you Playbook, a series of open source SQL queries and visualizations you can tailor to your data. If you have a SQL database with a users table and an events stream, you can now explore retention and user behavior without starting from scratch.
Over the past few months, we've noticed a few key trends among tech companies: we all have relatively similar data structures, we're all asking similar questions about how customers use our products, and we've all—at some point in our companies' growth—hit the limits of analytics products that don't allow access to underlying data.
We started thinking about the parallel to software development. Engineers rarely build tooltips, or databases, or web frameworks from scratch; they start with what's been open sourced. Why not open source analysis that works directly on raw data?
Our goal with Playbook is to help you find shareable, [data-driven](https://mode.com/blog/becoming-a-data-driven-company/) insights from the day you connect your database to Mode—while enabling deep ad-hoc analysis in the same tool. To get started with a Playbook report, simply clone it into your workspace and modify the database references to match your schema. Each report provides access to the raw SQL query and the HTML, CSS, and Javascript code that powers the visualization. While each report works right out of the box, it is also infinitely customizable. See the Playbook
The Retention and User Behavior reports are just the first step. We're working to open up other internal projects we've created on Growth, A/B Testing, SaaS Finance Metrics. If you have comments, suggestions for improvements, requests for additional reports—or best of all, analysis that you too would like to open source—we'd love to hear from you. Shoot us an email at hi@modeanalytics.com.
A Simpler Way to Connect your Database: Cloud Connector
The Cloud Connector is a new, simpler way to connect your cloud-based SQL databases to Mode. Select your database, enter your credentials, and start writing queries. That's it.
When you use the Cloud Connector, you'll benefit from performance improvements as they happen, without any work on your end.
You can connect and start querying an Amazon, Microsoft Azure, or Heroku database in the time it takes to read the rest of this post (though we hope you keep reading!) Get Connected
Say Hi to Segment SQL
Mode's Cloud Connector launch coincides with a big announcement from our friends at Segment. As a single hub for customer data, Segment collects your data in one place, then transforms and routes it to more than 120 third-party analytics and marketing tools. We've been a customer of theirs from day one and love the ease with which we can turn on new products like Intercom and AdRoll as we grow.
Today, they're launching a new product called Segment SQL. It's the easiest way to transform and load your analytics events data into a SQL database. By connecting Segment SQL to Mode using the Cloud Connector, you can instantly analyze your underlying event data in any way you dream up.
Mode is the fastest way to start working with your Segment SQL data: there's no need to map or pre-define your schema and the Playbook reports work right out of the box. Finally, answers to deep questions about how customers are using your product are just a few SQL queries away.
We'll be talking more about Segment SQL in an upcoming blog post. In the meantime, here's a bit more info about analyzing Segment SQL data using Mode!
Keep in Touch
A huge thank you to the growing community of folks sharing insightful feedback with us. We love talking with you! Drop us a line any time at hi@modeanalytics.com or by using the "?" when you're working in Mode.
We've also started a webinar series to help you hit the ground running. Check out the upcoming schedule.