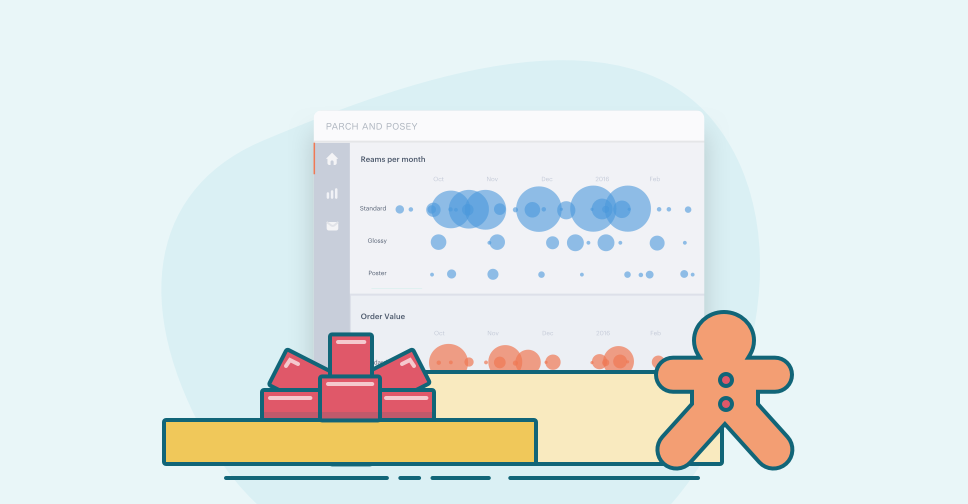 As consumers, we're increasingly accustomed to seeing data served back to us as features in the apps and products we use day in and day out. The steps we take, the tracks we spin, the tickets we close.
As analysts and product managers, we're increasingly called on to build partner- and customer-facing data features into our products. Building the infrastructure alone can make sharing data directly with customers and partners a non-starter, forcing you to leave a lot of value on the table.
It doesn't have to be that way.
Introducing White-Label Embeds
Today we're launching White-Label Embeds to help you ship custom in-app analytics into production in record time. White-label embeds are Mode reports that programmatically serve data to all your users as a secure and seamless part of your application.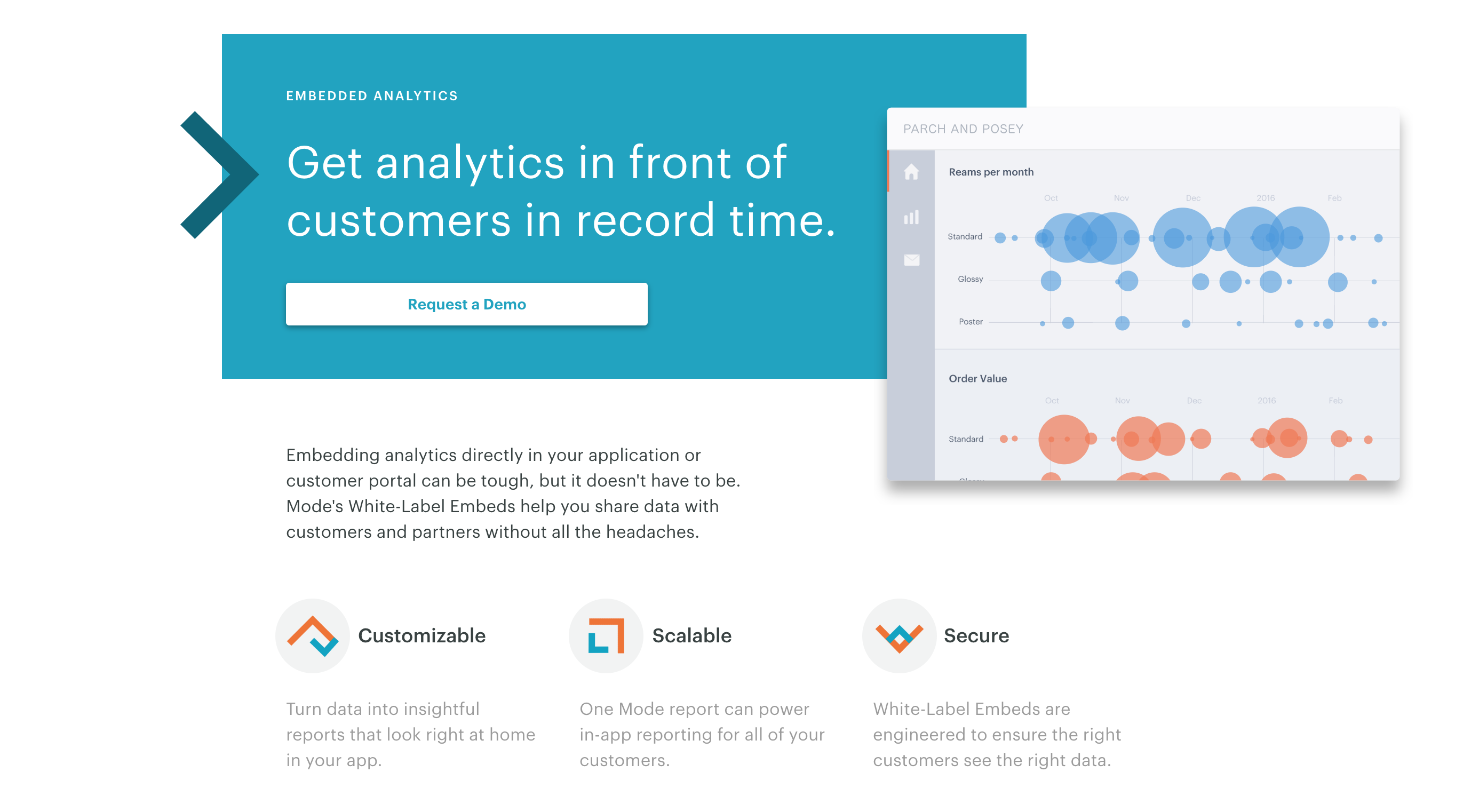 SQL-first
Like any Mode report, white-label embeds are built on SQL. You can query your raw data directly and present any stats you want.
Write queries that pull data for a specific customer or partner, then replace the specific customer reference with simple parameter code. You'll use the parameters to serve the right data to the right customer once the report is embedded in your app.
Completely customizable
White-label embeds provide two visualization paths: fast or custom (or, frankly, both). Our built-in charts enable you to quickly configure and ship simple dashboards to customers and partners.
Alternatively, you can take complete control of the embed, editing its HTML, CSS, and JavaScript to build completely custom visualizations that look right at home in your app.
Integrate in minutes
When you connect analytics warehouse to Mode and store your queries and visualization code together in the platform, all of the complex infrastructure to serve metrics to customers is off your plate.
Integrating white-label embeds into your product is just a simple engineering request: drop the iFrame or JavaScript embed code into the desired page in your app, then add a small bit of backend code to securely sign the content requests to Mode when the page loads. That's it!
Serve all your customers
Using embed parameters you can control how often customers can pull fresh data back from the database—whether that's every time the page is loaded, or on time intervals you determine. We can walk you through the options to help you determine what's best for your customers—and your data warehouse.
Get Started
Interested in getting started with White-Label Embeds? Contact our team to request a demo. We'll enable White-Label Embeds for your organization and help you ship analytics to customers in record time. You can also dive right into the documentation for the technical details of how everything works.
And that's just Day 3...
White-label embeds are the third feature in a series of 12 we're rolling out this week and next. As the central hub for a company's analytical work, Mode is delivering a whole slew of features that help data teams and business teams collaborate and share data like never before.
In addition to White-Label Embeds, we've added Discover to help you learn the ins-and-outs of Mode, and highlight to run, a highly requested feature to speed up the SQL authoring experience. Stay tuned for what's coming next—it might just be the feature on your wish list!