Colors are key to understanding data visualizations. They represent your data and guide people through charts and dashboards, making them easier to digest. Colors also represent your brand, providing a recognizable look and feel to everything your company produces.
We're rolling out new functionality in Mode that provides you the flexibility to use colors in a way that represents both your data and your brand: Custom color palettes.
Customize charts and dashboards with color palettes you define. Set your own default colors so everyone builds and delivers on-brand visualizations without thinking twice.
Custom Color Palettes
A few months ago, we launched dashboards and custom report themes to make colors, fonts, backgrounds, and general report styling customizable. Now, with custom color palettes, Plus Plan customers can create create their own palettes for charts. And new custom color palettes can also be seamlessly combined with report themes.
To get started, under Settings > Themes & Colors, create a name for your color palette and select a palette type to start customizing. There are two types of palettes you can create: Categorical and Divergent.
Categorical palettes range from two to 20 colors to ensure contrast across many categories of data. Enter and arrange up to 20 hex codes and save your palette.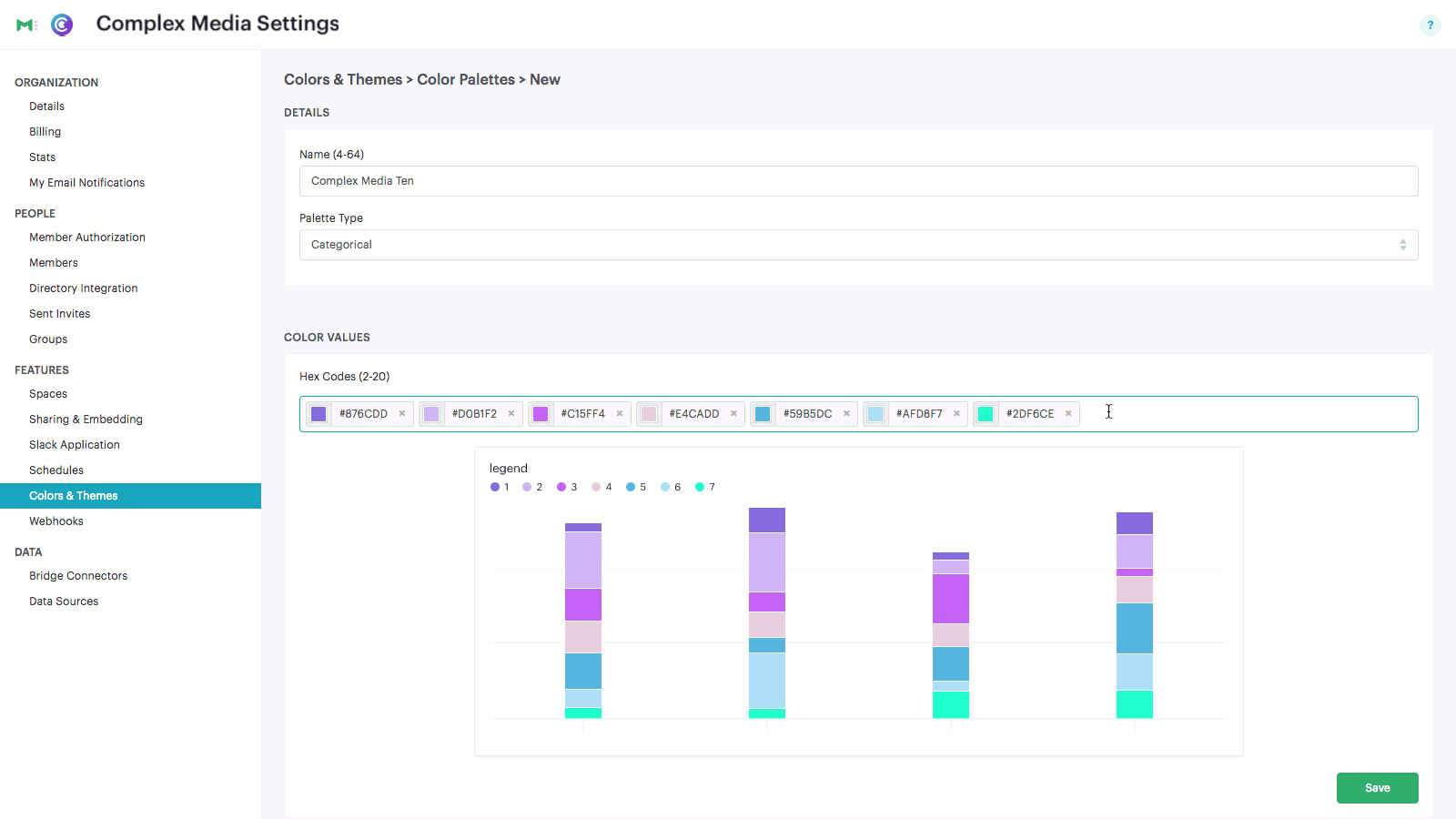 Divergent palettes, currently only for Mode's Big Numbers charts, contain a grey midpoint where two additional end-point colors are added to create a gradient.
As you create palettes, set one as the default for all charts created in your organization. All of your other custom palettes will be available to choose from in the chart builder under Format > Color Palettes. Anyone in your organization can also create their own custom palettes in their settings to fit the needs of their individual charts.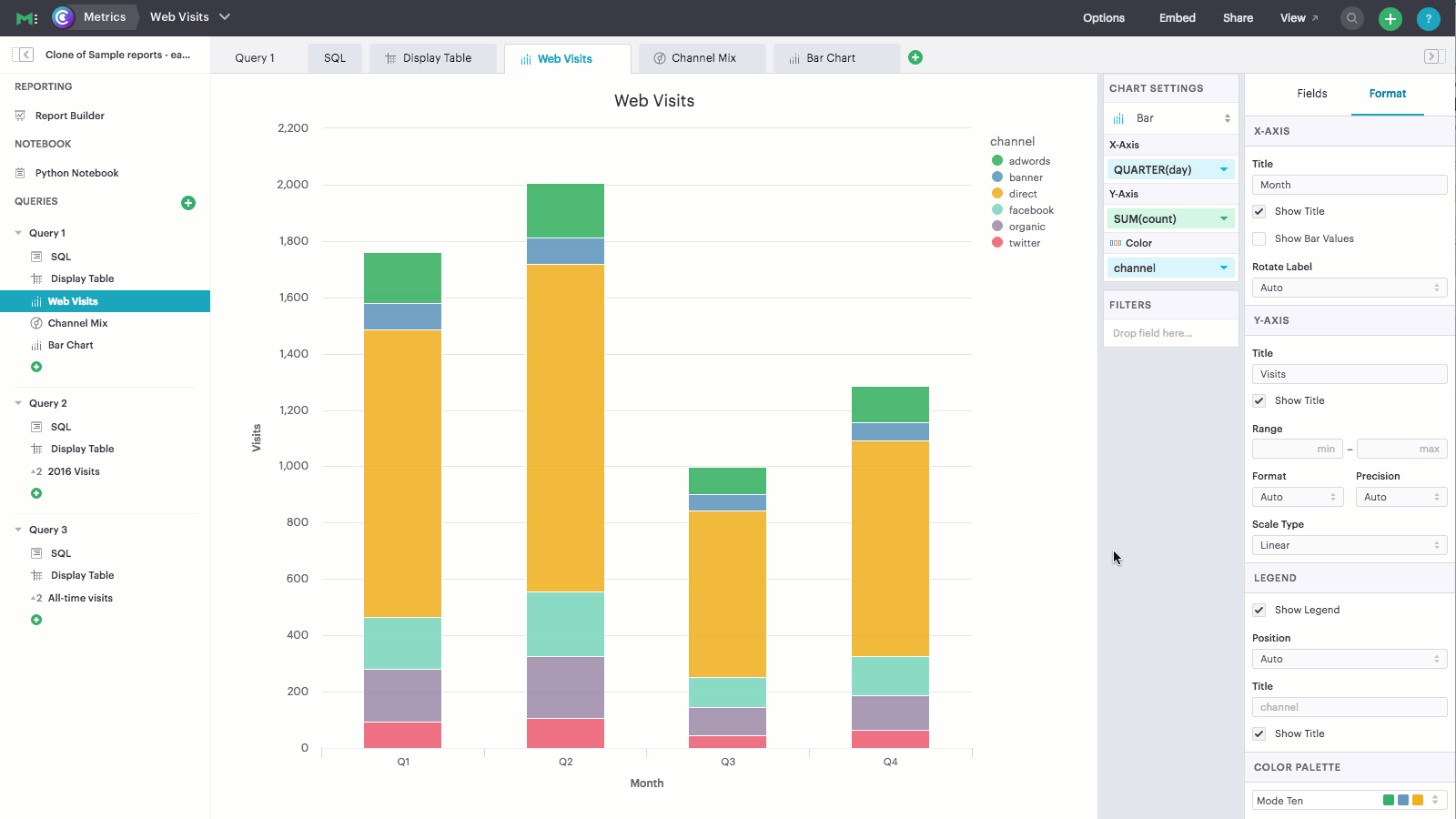 As filters are applied, colors will stay consistent on charts with their original series to ensure a smooth experience as you explore different views of the data.
Colors are also consistent across data in different charts powered by the same query, so you can quickly move between visualizations and find the series you're looking for. This remains true as you include or exclude data with report or visualization filters.
Better colors, by default
In addition to custom color palettes, we've also rolled out new color palettes that any organization can choose from in the chart builder. We've improved the color for the default palettes, and have expanded the number of colors to accommodate charts with more categories. The default palettes have improved contrast and accessibility, and now look great on both light and dark report themes.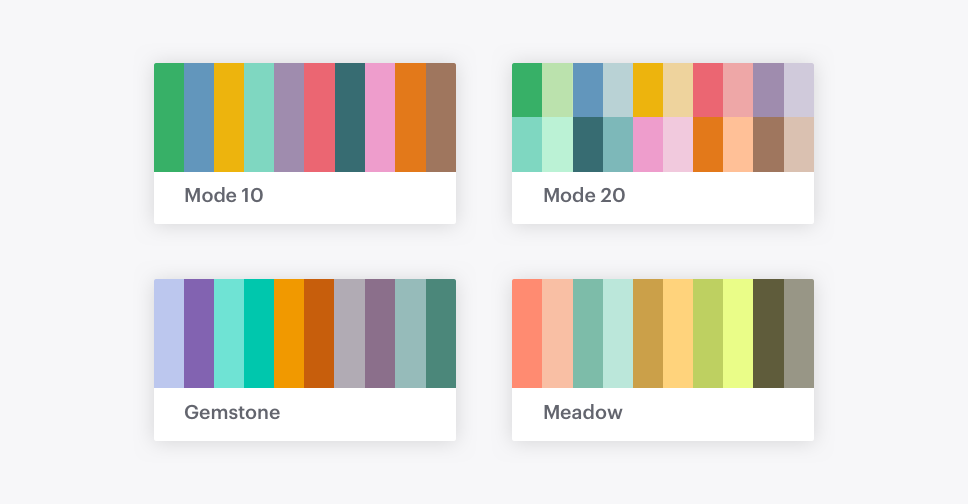 Embedded analytics
With this release, White-Label Embeds are also more customizable. Create palettes with colors that feel more seamless in your apps, portals, or anywhere you're serving up data to customers.
Start creating new palettes
For more information on how to set up custom color palettes, check out our help site documentation. Or, sign in to get started.
If you're interested in finding out more about custom color palettes or Mode's Plus Plan, don't hesitate to reach out for a demo.
Questions? Feedback? We love hearing from you. Send us a note at hi@modeanalytics.com, or start a chat in the product.