Nearly a year ago we wrote about the questions folks should consider when making early analytics hires. While those questions are helpful whether you're hiring your first data analyst or your fourth, there will be undoubtedly be another nagging question as you scale:
Do we centralize or distribute our analysts?
This debate has been going on for a couple of years. There are a whole bunch of articles written about this issue. This isn't uncharted territory.
So why jump into the fray? Many of these articles focus on really large organizations. We were curious if we could tap the Mode community to provide insights for earlier-stage companies. How are analytics practitioners starting their teams and subsequently setting analysts up for success as the business and its data needs grow?
When we chat with analysts using Mode, many mention that their analytics team is centralized. They're on the hook to create consistent data structures, cohesive practices, and standardized reporting while supporting the entire business. They're laying the foundation for growth, making it easier for more analysts to onboard as the need for analysis increases.
Ultimately, centralized analysts or distributed analysts aren't an either/or. It's a spectrum—and often one that mirrors the business itself. Take Uber, for example. It's known to be a pretty distributed company, with city managers empowered to do their own thing. Their analyst job reqs mirror this structure: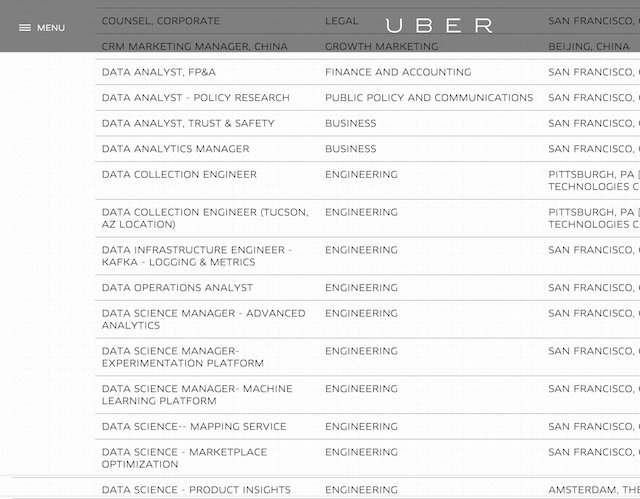 In the Uber case, data analysts are specializing in areas like finance, policy research, and safety, or being distributed to international markets. These "satellite teams" can build up domain knowledge that provides context for their analysis, leveraging the rock-solid foundation the centralized analytics team has put in place.
Regardless of business size or structure, there might be an alternative that provides the best of both worlds: fluid movement between a centralized and distributed team. In her recent article "Where Successful Data Scientists Sit," Clare Corthell recommends the "pulmonary model," in which data scientists move back and forth every few months, or throughout the week. The value here is that folks can build up domain expertise in specific areas of the business, while also working with other analysts to maintain consistent methodologies.
Consulting the analytics team experts
To check out what's going on at a few fast-growing companies with centralized analytics teams, we brought together three Mode customers to get their perspectives. Eyal Eldar is one of two analysts at Magisto. Miju Han leads the analytics team at TuneIn. And Matt Isanuk is over at Thumbtack where they're quickly scaling their analytics team. It turns out there were a few themes across companies.
1. Foster collaboration between analysts
Thumbtack has reached the point where departments need dedicated analytics resources (it's the largest company we spoke to for this blog post). However, while an analyst might specialize in the needs of another department, she still reports into the centralized analytics team.
"Our decision to create a centralized team was based on two core beliefs: 1) Analysts are most effective when they can learn from each other and 2) it's important for Analytics to retain an independent point of view." - Matt Isanuk, Thumbtack
Matt's job reqs make this approach loud and clear. Check out this Marketing Analytics Manager posting: "You'll report to the director of analytics but work closely with the director of customer marketing and other marketing teams, including acquisition, content, and brand."
2. Report to product
While there are exceptions, the centralized analytics team most often reports into product. In tech, this makes sense. Our products are core to our businesses—and it's our products that generate the bulk of our data. When data folks report into product, they're well positioned to provide context for high-impact decisions.
"Reporting into product solidifies the partnership between product and analytics. Our priorities are exactly the same, and analytics supports every key product initiative. We are also able to simplify the logging and analysis process so that product owners can begin to do their own analysis." - Miju Han, TuneIn
"Being part of the product team means that (A) I can accompany the development of each feature and tie it to KPIs from the planning stage, and (B) affect this process, by being part of the core, rather than an outsider." - Eyal Eldar, Magisto
3. Build domain knowledge over time
Reporting into product doesn't mean the product team is the only team to get analytics support. Eyal reports to the VP of Product at Magisto but he works on requests "directly from the CEO, marketing, business development, [and] content." Matt's team at Thumbtack also "supports all teams and functions."
For the folks we talked to, supporting other departments while reporting into product works. As the requests from marketing, finance, operations, et al. grow, analysts are able to leverage their knowledge of the foundational data structures and methodologies to more quickly deliver answers out to other teams.
Look ahead
How are your analytics initiatives shaping up for 2016? Take a quick survey to let us know. We'll gather the responses and publish the ideas and trends to ring in the New Year.
Survey Closed