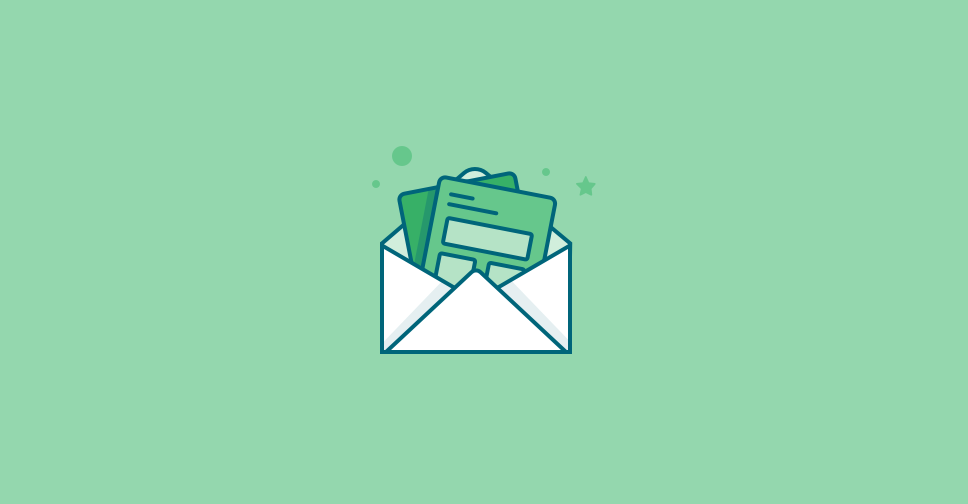 Where do you get your data science news? Twitter? Reddit? Social media is a great way to discover new articles, podcasts, and videos, but it can often feel like an overwhelming onslaught.
With so much great content out there, opting into a few choice email newsletters can significantly reduce the signal-to-noise ratio.
Want news from the data science community in your inbox every day of the work week? Check out these eight newsletters.
Data Elixir
@dataelixir @lonriesberg Love to see the Data Elixir newsletter in my inbox every Friday. Truly the BEST of Data Science in one place.

— Matt ODell (@MrMattODell) October 2, 2015
Data Elixir is an evenings project of Lon Riesberg, software engineer and former NASA employee. Lon's incredibly meticulous about curation: there are usually about 10 links in each issue, and you'll definitely find at least three or four things you'll want to read.
Published on: Fridays
Archives
Subscribe
FlowingData
Flowing Data is one of the truly great email newsletters https://t.co/RA1ssmrV1u

— Jimmy Daly (@jimmy_daly) September 15, 2016
Active members of the data viz community should be familiar with Nathan Yau and his website FlowingData. But did you know you can get all his posts in your inbox? Each issue includes data viz projects and craft-focused posts. Most of the links are to other practitioners' work, but there's always at least one of Nathan's own data visualizations or R tutorials in there, too.
Published on: Thursdays
Subscribe
Data Science Weekly
If you haven't already, join the Data Science Weekly newsletter! We look forward to it every Thursday! https://t.co/9xroeSzDhm

— MSU Data Science (@MSUDataScience) September 14, 2016
Data Science Weekly has a bent toward AI and machine learning, but it's a good all-around collection of everything data science. It's curated by Hannah Brooks and Sebastian Gutierrez, who hail from the fields of finance and data visualization, respectively.
The excerpts make it easy to sift through links and decide what you want to read. And for those of you who prefer long-reads, DSW recommends a new data science book in each issue.
Published on: Thursdays
Archives
Subscribe
Data Machina
Always good value in the @ds_ldn Data Machina news letter. Great way to catch up with latest DS & ML advances https://t.co/NKarLGyBUy

— Ian Huston (@ianhuston) November 8, 2015
Data Machina is put together by the "human algorithms" of Data Science London, the largest data science community in Europe. It's packed with how-to resources to get you up and running with a new technology or show you how to do that one really tricky thing in your tool of choice. No summaries in this one, but many of the links are sectioned by language (R, Julia, Python, etc) or topic (data viz, startups, bots).
Published on: Mondays
Archives
Subscribe
Exversion Weekly
For links and nothing but the links, subscribe to Exversion. There's usually a variety of articles and videos from every corner of the internet, including tutorials, posts about processes, and fun analyses.
Published on: Tuesdays or Wednesdays
Archives
Subscribe
Data is Plural
Hey data people, @jsvine's "Data Is Plural" newsletter is fantastic. Concise, full of great datasets / story ideas: https://t.co/2pb0NYL2SJ

— jonkeegan (@jonkeegan) November 25, 2015
Each week Data is Plural provides links to five interesting datasets. You can count on Jeremy Singer-Vine, Data Editor at Buzzfeed, to include plenty of context for each dataset, including links to relevant analysis and news stories. Jeremy's writing is witty—it's easy to tell he's having fun with it.
Published on: Wednesdays
Archives
Subscribe
O'Reilly Data Newsletter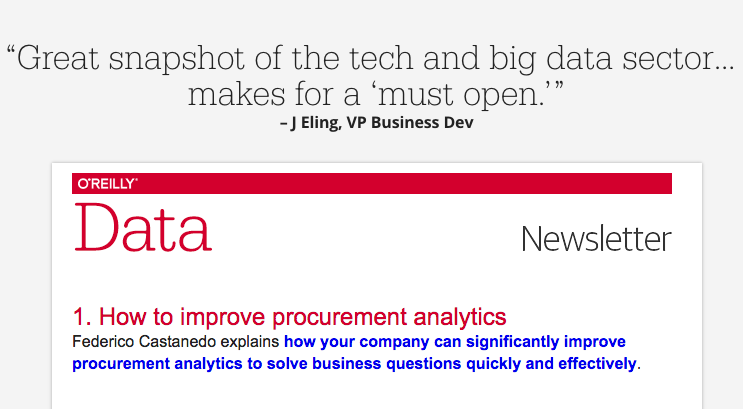 This list wouldn't be complete without mentioning O'Reilly Media, the behemoth technology publisher, and their Data Newsletter. The editors supplement each link with links to other articles in a similar vein or work from the same author. No need to Google for context—everything you need to know is right there in the email.
Published on: Wednesdays
Subscribe
The Analytics Dispatch
.@ModeAnalytics Analytics dispatch is content marketing done right. Consistently great, diverse analytics content from around the web. Bravo

— Adam Bowker (@anyothernight) August 15, 2016
The Analytics Dispatch is curated by the team here at Mode. It's short and sweet—a mix of five how-tos, thought leadership pieces, and data viz projects a week—so you can scan, read, and get back to work. Data lovers of all kinds should be able to find something in their wheelhouse.
Published on: Monday
Archive
Subscribe
Recommended articles